Camels, bikes and Star Wars sets in Tunisia
---
Camels, bikes and Star Wars sets in Tunisia with David Cachon. If you are a lover of adventure and nature, mountain bike tourism in Tunisia is an experience not to be missed. This country located in North Africa, has a wide variety of routes and trails to travel on two wheels, which makes it an ideal destination for fans of mountain biking.
Tunisia is pure nature
The mountains of Tunisia offer an impressive natural environment that will make your mountain bike trip unforgettable. You will be able to follow trails that will take you through valleys, mountains and oases, and you will get to know the fauna and flora of the place up close. In addition, you will have the opportunity to visit small villages and rural towns, where you will be able to interact with the local population and learn about their customs and traditions.
Millennial history
If you like history, Tunisia also has a large number of historical places that you can visit on your bike. For example, the El Jem Amphitheater is one of the best preserved in the world and will transport you to the time of the gladiators. You can also visit the ruins of Carthage, the ancient Phoenician city, which has impressive archaeological remains.
Explore the desert
For the more adventurous, Tunisia offers the possibility of mountain biking in the desert. You will be able to explore dunes and desert landscapes, enjoying a unique experience in the world. In addition, in some places you will be able to experience the Bedouin culture, which will allow you to get up close to the life of the desert nomads.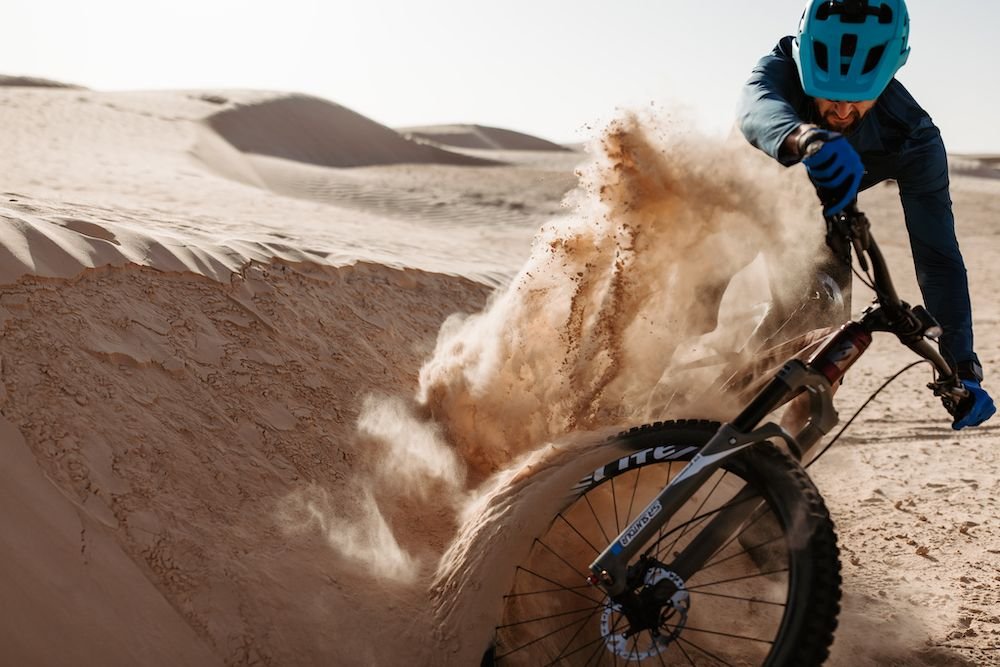 Tunisia, cycling holidays
As for the infrastructure for mountain biking in Tunisia, the country has a large number of marked and maintained routes and trails. In addition, there are several tour operators that offer guided tours and mountain bike rentals, so you don't need to bring your own bike to enjoy this experience.
You will be able to discover in a fun and exciting way places like the mountains of Zanghouan, go through its wonderful olive groves. The mountain oases, where incredible trails run along the edge of an incredible gorge. You cannot miss the Star Wars sets and you can also spend the night in the desert, a unique and unforgettable experience that I recommend you experience. Of course, I couldn't forget one of the jewels in the crown: the island of Djerba, a magical place where art and tradition go hand in hand.
In conclusion, mountain bike tourism in Tunisia is a unique experience that combines adventure, nature, culture and history. With its variety of routes, trails and landscapes, Tunisia is a destination that will undoubtedly surprise you. Do not hesitate and dare to live this mountain bike adventure in Tunisia.
Texto & riding: David Cachon
Fotografia: David Ponce